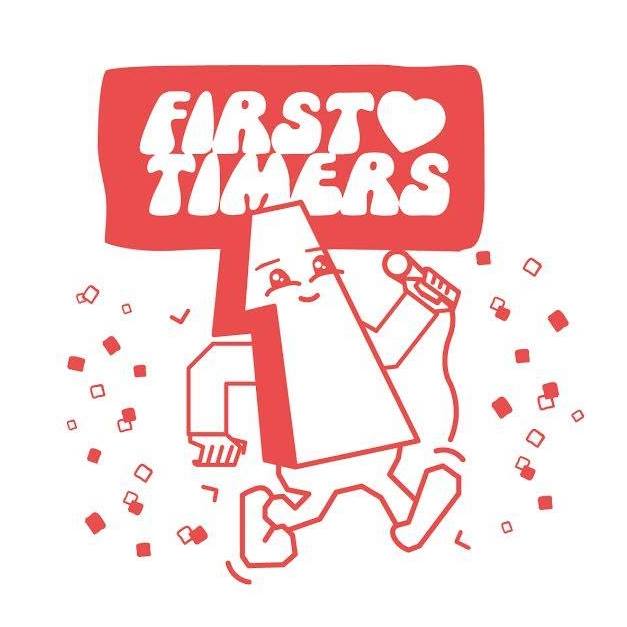 Some of the most interesting bands in London have started by performing at First Timers. Not every outfit who performs at the festival goes on to record, and this won't cover all that have, but below is a selection of groups from each year it has run so far.
First Timers was started in London in 2013 by Bryony Beynon (member of several cult British and Australian punk bands including Good Throb and BB and The Blips). Inspired by similar events in North America, she set up a two day festival where every group playing had to be making their live debut, have at least one member who either hadn't been in a band before or was playing an instrument that was new to them, and include at least one woman or member of a marginalized community. The first edition was held over the 23rd and 24th November that year. The first day was at a squatted social centre on Mare Street in Hackney, and the second day was moved to the now closed punk hub Power Lunches due to a last minute disagreement with the former.
Big Joanie


Of that edition's alumni, you might be aware of Big Joanie, the Black British feminist punk trio who've gone on to release music on Thurston Moore and Eva Prinz's Daydream Library Series, Jack White's Third Man Records and cult Olympia/Portland label Kill Rock Stars. Their first album is stunning, its lead single 'Fall Asleep' combines their 60's girl-group and '90s riot grrrl influenced DIY punk with some high energy synthesizers. And album two is on the way! Check out singles 'In My Arms' and 'Happier Still' from it.
Primetime

Also from 2013 was Primetime, who released two brilliant 7"s on Hackney label La Vida Es Un Mus. My highlight is their second EP opening with an anthemic holler-along in the form of 'Pervert'. Their members have gone on to be in synth-punks Es, pub punks Hygiene, and Melbourne janglers The Stroppies.
Kinshot

Kinshot took inspiration from classic '80s emotional hardcore, and in typical fashion burnt bright for two years before breaking up. In 2019 they uploaded their unreleased recordings in the form of a self-titled EP and a three song single with a few extra. 'Internet' from the EP has only become more pertinent with age.
—
Three years later on the 23rd and 24th of April 2016 Beynon organised a second event at DIY Space For London, a member's co-op venue she had co-founded.
Charmpit

One of the joys of each First Timers coming round is seeing what excellently bizarre band names the participants have come up with that year. Each one seems to bring something more and more ridiculous. Charmpit was formed by two Californian BFFs who had relocated to London. Their music picks up where the '80s Bristol label Sarah Records left off, matching their ethos of releasing bands that combined their left wing politics with sugary sweet pop singalongs. First album Cause A Stir was released in spring 2020 by the Bristol-based Specialist Subject Records. It starts with their ode to the festival, 'Do It Together (First Timers)'.
Scrap Brain

Fans of sludgy, string scraping hardcore might already be aware of Scrap Brain through their 2019 album A Journey Into Madness. Recorded and mixed by Jonah Falco it was co-released by Kansas City's Thrilling Living and Stoke-on-Trent's Drunken Sailor. Highlights like 'Crybaby' and 'Floundering' begin with thudding drums and along with CR's yelping, bellowy vocals, it draws from post punk, anarcho, and all the darkest recesses of punk rock.
Slab City

Featuring members of other London bands Molar, Negative Space, and Megaflora; Slab City made viscerally noisy post-punk with lyrics in both English and Spanish. 'La Tierra' from their 2018 cassette EP Regina Delle Streghe, is all echoing vocals and thick layers of buzzsaw fuzz.
Threat Level Midnight

Another group whose recordings took a while to see the light of day, Threat Level Midnight's Still Do It Anyway EP is three songs of charming and melodic punky pop, none of which would sound out of place on a Stiff Records compilation.
—
For the next three years First Timers London, its mantle taken on by former participants, was held annually at DIY Space. 2017:
Secret Power

Playing First Timers 2017 as a duo, sometime the next year Secret Power re-emerged as a trio. In this incarnation they were a post-punk band with a deep love of alt-soul and R&B, regularly nailing a cover of Aaliyah's Try Again. In their short time together they released just the one self-titled EP on For The Sake of Tapes, and had support slots for Orville Peck and Big Joanie. The only consistent member throughout both forms of the band was Jessica Ashman, an animator and visual artist who now records and performs as Spirit Sigh.
Bitch Hunt

An all non-binary group, Bitch Hunt's sound veers from the kind of indie pop made by '90s bands like Cub and Beat Happening ('Eau Claire' or 'Out of Eden') to a more bluesy alternative rock ('Spaceman' or Shapeshifter'). In March 2020 they released a split tape with fellow Londoners adults, followed up by an EP on Derbyshire label Reckless Yes.
Panic Pocket

Like Charmpit, Panic Pocket was started by two BFFs. Former schoolmates who wrote their first song together when they were teenagers (a Christmas song about Santa's wife), all of which have a well-developed sense of humour. Their music is synth-led indie-pop, like a Talulah Gosh collab with Strawberry Switchblade ('Don't Get Me Started'), or Helen Love meets Kirsty MacColl ('The Boss').
Whitelands

At 18 Etienne Quartey began writing songs for Whitelands over his sixth form lunch breaks on the outskirts of West London, carefully refining an emo-tinged shoegaze sound. After enlisting Jagun Meseorisa on drums, the duo played their first gig at First Timers 2017. They've since expanded to a four piece, released a four song EP, a seven song self-titled mini-album, and played the penultimate Indietracks in 2018, as well as the second Decolonise Fest in 2019. Their latest releases are the singles 'Fluoxetine', 'Paradise is a Person', and 'How It Feels'; all of which could have been plucked from a mid-90s Gregg Araki film soundtrack.
—
2018:
Killjoys

Catchy and relatable bass-heavy synth-punk from these 2018 alumni. 'Google Docs' is about sharing notes on rubbish men, in 'I'll Give You Back Your Shit If You Give Me Back My 20s' they list items left behind by a previous lover, and 'Platonic Anal' is about struggling to work out if someone's flirting with intent or not.
Leisure Centre

Just the one song so far from this five-strong band who describe themselves as 'DIY stoner-pop'. 'Moody' is a laid back, Warpaint-esque track, with an apt title.
Halaca

A mix of jaunty and melancholic, keyboard-led, outsider pop. Three singles from this three-piece. Their band name means "she got tired of him" in Lebanese.
—
2019:
Breakup Haircut

Breakup Haircut love long titles. They released an EP, 'What did you expect? I got it off the internet!', later the same year they played the festival, and their punky power pop has rapidly cemented them as a London DIY scene favourite. Their debut album 'Punk Dancing for Self Defence' was released by Reckless Yes in July and contains newer anthems like 'Out of My Way (I'm Not Getting On the Nightbus)' as well as re-recordings of some of their earlier songs like 'Why Can't I Be Cool Enough To Move To Berlin?'.
Trouble Wanted

Like a queer reincarnation of Nick Cave & The Bad Seeds, the only song Trouble Wanted have released so far is an epic story told in a gruff drawl set in a roadside bar populated by cowgirls and truckers laid over a moody post-punk groove. The video deserves some kind of award also.
John Fletcher

Self described "slapstick post punk", John Fletcher (in this case a band rather than a person) remind me of the kind of deliberately atonal mid-80s British bands who took Beefheart's Trout Mask Replica as gospel. Bands like Stump or Bog-Shed. Their song 'Love Island' is a humorous tantrum about not having as much summer fun as you hoped for.
—
The latest edition of the festival was held on just one day in 2022, Sunday 8th May, at a music pub in South London called the Amersham Arms. As far as I can tell none of the bands that played have recorded anything yet, but their sounds ranged from Dischord-esque post-hardcore, to post-goth with two(!) bassists, to poppy punky reggae. I'm already looking forward to next year.
Visit firsttimers.org for further information.
AUGUST 9, 2022